Good Content Has Its Rewards.
The new Helpful Content Update rewards the creation of helpful content that's relevant to a person's search by improving the ranking of that caliber of content, while content that is clearly written with only the search engine in mind will now be ranked lower. Content creators should think of content in terms of its quality; e.g., original, fresh content with the human being searching for it in mind is what will now count most (and should). Bad quality content will equal bad results and rankings.
PEOple Before SEO.
People want and deserve a positive experience, regardless of where they are consuming your content. They want to know that the information they're reading can be trusted, that the site they are visiting features articles and topics that are truly of interest to them, that the content reflects an authoritative voice, and that the information conveyed is insightful and well-presented. All of this is not to say that SEO is unimportant; rather, it should be designed to bring added value to the consumer, always adhering to SEO best practices. SEO will be its most impactful when it gives the nod to PEOple first.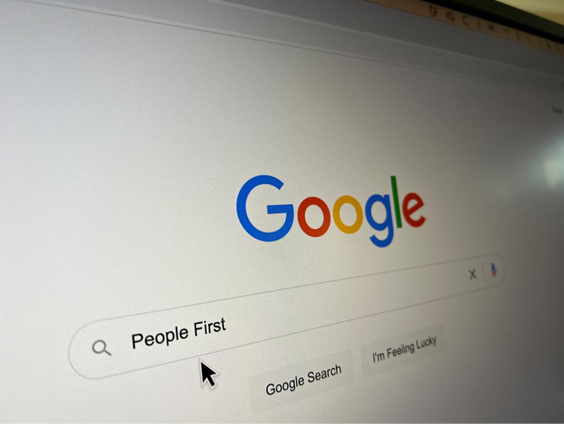 Common Pitfalls You'll Want To Avoid:
Be human. If your content is such that it will be more interesting to inanimate search engines than people, it is probably unhelpful. Are you trying to cover too many topics or topics that are simply trendy to see which still stick? That's unhelpful, too. Are you just mimicking what competitors have already said? Be original! Are you struggling to reach the number of words you think Google wants you to have? Google does not have a specified word count. Ask yourself if the person searching for your product or service is likely to start their search all over again; and if the answer is yes, your content has not provided them what they were looking for and is therefore useless. These are all scenarios in which your content is likely to be deemed unhelpful based on Google's new Helpful Content Update and the associated algorithm, and you will be much less likely to get the search results you need.
Search For The Right Reasons.
Developing a search marketing strategy with people first content and overall strong SEO performance may seem like a challenge, but the Pros at Proleadsoft are here to help you get the results you need. We work with businesses to provide a 360 approach to SEO that actually does optimize its potential and guarantees ROI. Now it's your turn! We always offer a FREE 30 minute consultation for new clients, and we never require a long-term commitment. Schedule your appointment today!